KEEP UPDATED ON HOW MANY PEOPLE ARE IN THE WELLNESS CENTER:
INFORMATION REGARDING OUR REOPENING:
The Shepherd University Wellness Center reopened on May 26th, following the Governor's guidelines. The Governor's guidelines can be found here. The Wellness Center is operating under modified hours and with capacity and amenity limitations.
Phase 2 of our reopening began Monday, June 8, and included the reopening of our pool and courts with restrictions. Click here for our updated "Phase 2: Pool and Court Reopening and Usage Guide". Beginning July 1, all eight lanes of our pool will be reopen. Lane reservations are required. There is a limit of one person per lane. No spectators are allowed on the deck. Please read through the updated Phase 2 packet to learn how to reserve a lane online or over the phone.
Also beginning July 1, we will be extending our facility and pool hours.
New Hours Facility Hours:
Monday – Friday 6 a.m. – 8 p.m.
Saturday & Sunday 8 a.m. – 2 p.m.
New Pool Hours:
Monday – Friday 6 a.m. – 1 p.m. & 3 p.m. – 8 p.m.
Saturday & Sunday 8 a.m. – 2 p.m.
On July 6, we will be resuming several live group exercise classes (click on the group exercise tab for the complete schedule) and will also continue to offer classes remotely via Zoom. Live classes will require a reservation. Please read through our Group Exercise Participant Guide for participation requirements and directions on how to reserve a spot in a class.
To continue to keep our members and staff safe, everyone will be required to complete a self-assessment, a temperature check, wear a mask, and sanitize their hands before entering the facility. Members and staff will be required to practice social distancing of at least 6 ft inside and outside the facility. Along with practicing good personal hygiene, all members will be are required to clean equipment before and after use.
While closed, the Wellness Center has deep cleaned, sanitized, and disinfected all equipment and surfaces. The equipment has been rearranged and the facility floors have been marked to prompt social distancing. The Wellness Center staff have gone through additional training on how to sanitize and disinfect all aspects of our equipment and building more frequently and effectively using hospital-grade cleaning agents.
For a complete list of Wellness Center recommendations and requirements for access, please click here.
Click here for "Phase 2: Pool and Court Reopening and Usage Guide".
Shepherd University Wellness Center
Programs & Promotions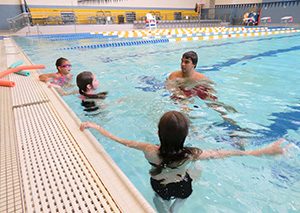 Spring Group Swim Lessons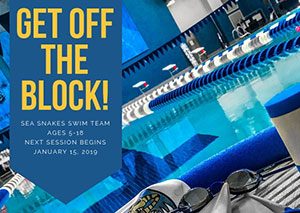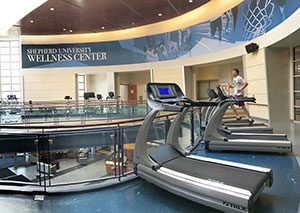 Pick Your Promotion
2019 Fall Membership Promotions
Text Alerts
Stay informed on all weather, facility related closures and class cancellations by subscribing to the Shepherd University Wellness Center Text Alerts system.
Download our calendar of events